Australian Dance Theatre's North/South is a powerful evocation of climate dystopia and human resilience, says Ben Brooker
In the 20 years since succeeding Meryl Tankard as Artistic Director of Australian Dance Theatre, Garry Stewart has developed a style of choreography as distinctive as anyone's. It's aerial, highly physicalised and theatrical in the broadest sense, which is to say richly expressive but nonlinear, grounded more in ideas – Stewart is an inveterate researcher – than narrative. While video plays a key role in many of his works, he is no tech-fetishist. The human body, rawly exposed, remains at the centre of his dance-making.
North/South, a double bill ostensibly exploring the impact of climate change on the polar regions of the Arctic Circle and Antartica, sees Stewart paired for the first time with Norwegian choreographer Ina Christel Johannessen whose work, despite wide exposure in Europe, has only been seen in Australia once before (the Metamorphoses-inspired …It's Only a Rehearsal, presented by Johannessen's company Zero Visibility Corp, which played at the Sydney Opera House in 2005).
It is Johannessen's work, North, that we encounter first. At a dilapidated bus shelter surrounded by a white void a man (Kimball Wong) sits cooking a sausage over a portable stove. The shelter – superbly designed by Wendy Todd – is full of old, sodden newspapers, and a steady fall of "snow" builds on its roof. One of its glass panels has shattered, leaving a jagged outline. A faded map shows the routes of local buses but somehow it feels like nobody waiting here would expect one to come, or to stop if it did. The light from a lamp post flickers over the scene, threatening to give out at any moment. Perhaps we are on the outskirts of some decaying metropolis. Or perhaps this is a vision of a post-climate crisis world.
Certainly the company of nine dancers who begin to populate the stage could pass for extras in a dystopian film or TV series. They wear greatcoats and boots, ill-matched assemblages that feel displaced from time. Their movements, sharply individualised, are gestural, expansive, and intensely locomotive. They are also violent. In one disturbing duet, male and female dancers appear to repeatedly choke each other. There is a sense of Beckettian stasis to the dramaturgy; these characters are going nowhere, fast. One, performed by a bearded Daniel Jaber, pontificates up and down the stage like Pozzo – or a populist demagogue – drawing and repelling others around some unknowable cause. Another (Wong) hurls the newspapers out of the shelter at one point, a shameful, misanthropic display of human waste and carelessness.
But, alienated though these characters seem to be, a communitarian ethic shines through. Dancers lift and support each other, generate momentum from falls and clamber onto one another's backs as though reaching for… something. If Johannessen's choreography has a physical signature here, it is one of revivification, a Schopenhauerean will to live. Someone twice shimmies up the lamp post to restart the faltering light. And at different points, including the work's final moments, a dancer tries to resuscitate another in a frenzy of chest compressions. Fading to black, it is not clear if this last attempt is successful. They – we? – teeter on the brink, triaging a world near to death.
If North seems, in part, concerned with our impact on the natural world, then Stewart's visceral South – based on Douglas Mawson's doomed Australasian Antarctic Expedition during the so-called Heroic Age of Antarctic Exploration – lays bare the effects of elemental forces on the human body. It has little of the compelling ellipticity of Johannessen's work, but creates within its literalism moments of spectacular, even transcendent, athleticism.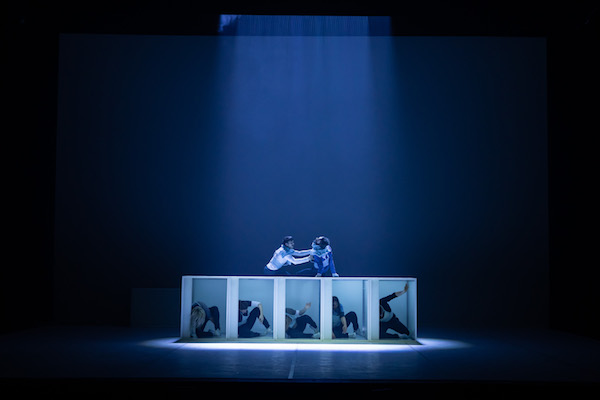 Garry Stewart's visceral South. Photo: Daniel Boud
Todd's set consists of nine moveable white blocks, which the dancers tirelessly recombine amid ever-swirling dry ice to form glaciers, ice sheets and crevasses, each one seemingly more perilous than the last. In the work's opening sequence, a Mawson-like figure in balaclava and harness clambers across them, strobe lighting and jerky movements conjuring the look of an old news reel as he strikes grandiose poses alongside a wooden sled. Brendan Woithe's score, in contrast to Koenraad Ecker's for North, is driving and percussive, and inflected with eerie vocal lines.
We know, of course, that Mawson's expedition ended in disaster, not triumph, with two men dead and its leader physically and emotionally broken (a fourth man, relief radio operator Sidney Harry Jeffryes, had a mental breakdown and was institutionalised for the rest of his life). South charts this unravelling mercilessly, in the process illuminating, without heroicising, the human capacity for resilience.
Despite the work's Mawson-centering opening, Stewart's choreography is largely synchronous, framing the story of the expedition as one of the collective rather than the individual. The dancers combine to traverse and scale gaps between the treacherously shifting blocks. They haul one another across the stage by sled (work that, in reality, was done by the expedition's dogs until they died or were killed for food). Impressive rope work sees them bind, release, and elevate one another as in an outsized game of cat's cradle. When suspended in seeming defiance of gravity, they recall the famous image of Mawson expedition member Eric Webb leaning at what seems an impossibly high angle into hurricane-strength winds.
In isolation, the dancers are vulnerable. One tries and fails, Sisyphus-like, to scale an angled block. Another, in a chilling recreation of expedition member Belgrave Ninnis' fatal fall into a crevasse, plummets backwards from several metres in the air. In one sequence the dancers install themselves on the blocks in a museum display-like tableaux – a foreshadowing, perhaps, of their ultimate fate.
Finally, as Damien Cooper's lighting dims to a crepuscular haze, only a single, naked dancer is left onstage, brutally exposed. Splayed on a block in the foetal position, a mist of black, oil-like paint, so fine as to be invisible as it falls, slowly blackens his body. It's an extraordinary image, redolent of the exploitation of the planet's natural resources that is driving massive, potentially cataclysmic losses of polar ice. "One is in the midst of infinities,' reads the projected text as the "dots and dashes" of Morse code ring out. It feels like a warning through time.
North, conceived, directed and choreographed by Ina Christel Johannessen, composed by Koenraad Ecker. Lighting design by Damien Cooper, design by Wendy Todd. South conceived, directed and choreographed by Garry Stewart. Dramaturgy by Ruth Little, composition by Brendan Woithe, lighting design by Damien Cooper, design by Wendy Todd. Performed by the dancers of Australian Dance Theatre. Australian Dance Theatre, Adelaide Festival Centre.